Respect for Privacy and for copyright laws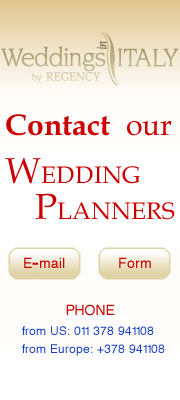 Weddings in Italy > Contact Us > Privacy
PRIVACY
Weddings in Italy
Privacy

Regency San Marino informs users that user personal data will be used in compliance with the principles governing the respect for privacy as provided for by current privacy laws.
The personal data provided will be recorded in a Regency-owned electronic database. Regency will used the data in question to provide services and the information requested by the user or that may be considered of interest thereto.

All the data provided may be modified or cancelled from the Regency database at any time upon request on behalf of the user, by sending an email to the following address: info@weddingsitaly.it.

Furthermore, Regency gathers and uses general statistical data pertaining to the access to Regency web pages and to its users (pages visited, type of browser, geographical location, date and time, etc.) in order to improve the quality of the web site and of the services provided. These data are gathered without personal references.



Text Copyright

The contents of this site are property of Regency San Marino and are subject to copyright laws.
The reproduction, whole or in part, of images, texts, logos and icons without written authorisation on behalf of Regency, is prohibited.

Regency San Marino is not liable for any external links contained in the site that may lead the user to pages whose contents or functions are beyond the Regency control. Such links are provided exclusively are an information service for users.