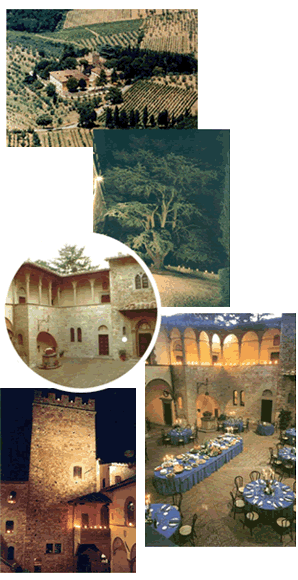 A few months ago, we had the pleasure and honour of arranging the wedding of the son of the recently elected president of Iraq, Jalal Talabani. The ceremony and reception took place in a medieval castle in the Chianti wine region of Tuscany. This was a truly special event, as it was the wedding ceremony of an Iraqi citizen, born in Beirut, and an American woman.

Regency's task was particularly complex, due to deeply different customs and values, which needed to be conciliated. The professionalism and sensitivity of every one of Regency's coordinators made it possible to organize a hugely successful wedding, which more than satisfied the couple, their family and their guests.
President Talabani thanked everyone. When he was leaving the castle garden, before dancing began in the courtyard, he told us:
"I am so satisfied, I will remember all of you!"

The Wedding Planner, who coordinated this event, is fluent in both Arabic and English. Therefore, she was able to converse with each family in their own language – Arabic with the Talabanis and English with the bride's family, the Krahams. She took care of all the many details. These included the floral arrangement selection with the bride, the ceremony wording with the groom and his parents, and the choice of Italian menus, which had to meet the
strict standards of Arab culture and taste. All of this took place, while under the careful and alert eyes of ten bodyguards, who had to plan and execute the serious security needed for the wedding day.

We received the following kind words, by email, from the wedding couple three weeks after the wedding:

"We are finally starting to come down out of the clouds. We, and our family and friends, had such a wonderful time in Italy and the wedding. I am hearing rave reviews about the Fattoria. It was just the kind of relaxing week we wanted. And the wedding will be talked about for many years to come! It was spectacular, thanks to your efforts. We are happy to provide a reference, if you ever need it. Anyone that could put up with Sherri and me, as well as our families has a special talent!!!"